City Same City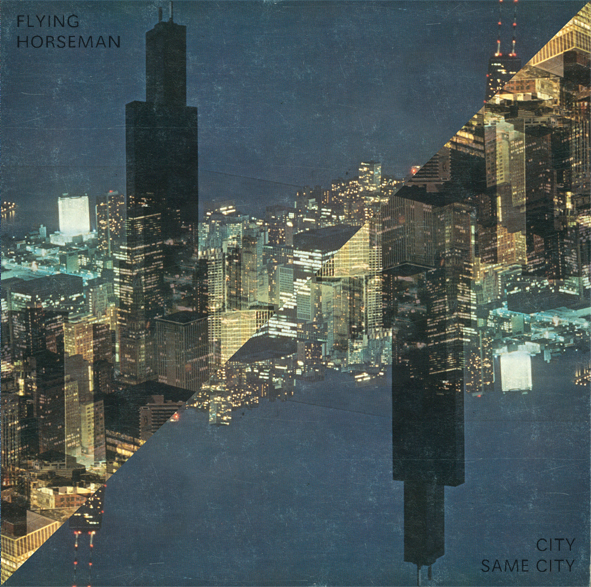 The third Flying Horseman album sears the soul to the rhythm of a torrid summer's day. While the previous album, Twist, evoked the atmosphere of the deep, dark woods, City Same City is a breath of desert air. Still, each track is imbued with an ominous light, a sense of the gathering storm.
Buoyed by a rhythm section that's at once playful, pared-down and percussive, the songs flow like a river, governed by their own laws only. Unpredictable and marvellously eccentric, the overall effect recalls the work of other utterly unique musical artists (early Fleetwood Mac, late Talk Talk, Brian Eno, Talking Heads, Joy Division). There's also a distinctly African influence – particularly Nigerian juju music and Malian desert blues.
 The album consists of twelve songs, divided into two parts.(City and Same City) The band's wealth of individual talent, combined with the strong vision of producer Koen Gisen and frontman Bert Dockx results in a varied, layered masterpiece; a gripping, hypnotic fever dream in twelve chapters.
 "… An amazing ability to conjure up sonic storms, even more amazing in creating a menacing undercurrent and most amazing of all in the way they combine the two…. " (Humo)

"Masterful!" "This is an ensemble that has discovered an original style and seems determined to explore every corner of it with unbridled enthusiasm." (CD of the week in Focus Knack)

"An impressive full album" and "an unmistakable signature sound" (Cobra)

"We can only second the response of one ecstatic fan who shattered the porcelain atmosphere of 'Stories' with an irrepressible squeal of 'bravo!'. That pretty much sums it up." (De Morgen, after the concert at the AB)

"City Same City takes time and patience, but the reward is a selfless generosity rarely encountered in this day and age" (Enola)

 
TRACKLIST:
1. City
2. We Care
3. Walking
4. Return
5. Lucile
6. Sleeping Room
7. Landlord
8. We Are Free
9. Hardcore
10. One Note Song
11. Stories
12. Same City
 
CREDITS:
City Same City (14.10.2013 - Unday Records)
Produced by Koen Gisen and Flying Horseman
Recorded and Mixed by Koen Gisen at La Patrie
Mastered by Uwe Teichert at Elektropolis
Artwork by Philippe Werkers
 
MUSICIANS:
Bert Dockx: Vocals,Guitar
Loesje Maieu: Vocals,Synths
Martha Maieu: Vocals, Synths
Milan Warmoeskerken: Guitar
Mattias Cré: Bass
Alfredo Bravo: Drums